"Hummel and his swinging brand of blues are a match made in heaven."
-Living Blues
42 years ago guitarist JJ Jones called me up and asked about starting a band with Johnny Sandifer( aka Johnny Waters), who I'd jammed with at Eli's Mile High club a couple months before. Johnny knocked me out from our first meeting, as he sang "Country Boy" by Muddy, as good as the man himself. I put together a rhythm section and the Blues Survivors were born (Sandifer's band name idea)!! JJ quit after two months of us being the Eli's house band.  Sonny Lane was enlisted, being a Chicago blues freak as Johnny and I were. We played together till 1981-when I wanted to try more rockabilly material and Johnny was going into more BB King/Chuck Berry tunes. Plus I wanted to travel farther out of the area and Johnny had a day gig at a steel mill. Sonny Lane and I worked for a little longer but Lane and Waters were a true team with years of working together. 
Over the years my bands became almost a training ground for players wanting to play blues on the road-I've done over two million miles or more in my seven vans with over 250-350k on each one!!! Some of the great players I've worked with are Jimi Bott, Pat Chase, Sue Foley, RW Grigsby, Shorty Lenoir, Jim Pugh, Jon Penner, Rusty Zinn, Randy Bermudes, Paul Revelli, Bob Robert Welsh, Anthony Paule, Steve Freund, Adrian Costa, D'Mar, June Core, Mike Judge( yep!), Willie Panker, Tim Wager, Buddy Reed, Ronnie James Weber, Vance Ehlers, Jim Overton, Randy Rattray, Steve Wolf, Marty Dodson, Charles Wheal, Sid Morris, Chris Masterson, Mike McCurdy, Gary Rosen, Wes Starr, Franc Paris Slim Goldwasser, Little Charlie Baty, Ron Thompson, Kevin Zuffi, and many more. Both on the road and recordings. We backed so many great legends and bluesman it's hard to believe: Lowell Folsom, Jimmy Rogers, Eddie Taylor, Luther Tucker, Johnny Heartsman, Jimmy McCracklin, Charles Brown, James Cotton, Charlie Musselwhite, Billy Boy Arnold, John Mayall, Huey Lewis, Corky Siegel, Snooky Pryor, Carey Bell, Willie "Big Eyes" Smith, Barbara Dane, Brownie McGhee, Cool Papa, Charles Houff, Boogie Jake, Lazy Lester, Francis Clay, Joe Beard, Big Joe Dustin, JJ Malone, Sonny Rhodes, Sam Myers and Anson Funderburgh, Dave Myers and ones slipping my mind. So many no longer here, it's sad, as I learned SO much being in their presence. Lots of miles plus an album every two years, sometimes more. I look at old itineraries and I can't fathom how I did it, booked it, etc. 
I've put on shows with guest performers since the 1970s and have always gotten so much gratification from presenting blues-Full Moon Saloon, La Citta, Larry Blake's, Eli's, Berkeley Square, Ashkenaz-so many long gone plus a few still here. I'm so gratified when people remember and thank me for doing shows that I've put on-makes it all worthwhile.  What a way to make a buck!!
Longtime Blues Survivors Hummel, Rusty Zinn, Bob Welsh, RW Grigsby plus June Core or Paul Revelli continue to perform dates around the West and can be seen together at venues as small as the Poorhouse or Armando's to music halls like Yoshi's or the Empress Theatre - bringing this group of longtime band mates to audiences hungering for their exciting taste of classic Chicago/West Coast/Jump Blues.
The Original Blues Survivors circa 1979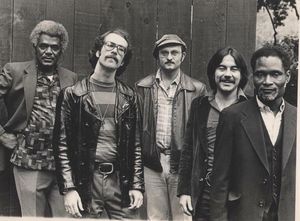 Live at Pipa's - Mark Hummel and the Blues Survivors with Billy Flynn