Golden State-Lone Star Revue
"It is obvious that these guys are having a great time and, if the musicians are enjoying it that much, it's a good bet that you will have a similar reaction...I certainly did. You can't go wrong with this one."
- Bill Wilson, ChickenWilson BlogSpot
Golden State-Lone Star Revue at Blue Frog Studios
The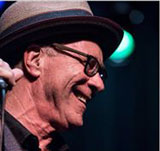 Golden State Lone Star Revue is an all-star, cross-country melding of musicians from California -- Mark Hummel (harp-blower, vocalist, bandleader and Grammy nominee), R.W. Grigsby (bassist) -- and Texans Anson Funderburgh (guitarist and Rockets bandleader), Mike Keller (Double Trouble, Fabulous Thunderbirds) and Wes Starr (famed Austin drummer who has played with a who's who of Texas music royalty). 
Hummel's Blues Music Award nominated release; The Hustle Is Really On, features The Golden State Lone Star Revue, which has just completed a new recording for 2016 release. Besides producing and playing on Blind Pig's Remembering Little Walter with Charlie Musselwhite, Billy Boy Arnold, Sugar Ray Norcia, James Harman, Little Charlie Baty, Nathan James, June Core and RW Grigsby, the CD was nominated for a Grammy Award and has recently won Best Blues Album and Best Traditional Blues Album of the year at the Blues Music Awards in Memphis, TN.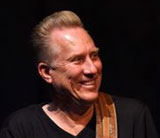 ANSON FUNDERBURGH - Born in 1954, Anson Funderburgh hails from Plano, Texas, where the youngster first picked up guitar. In high school, he got bit by the blues bug through Jimmy Reed and Lightning Hopkins. By 1978, he started Anson and The Rockets with vocalist/harp player Darrell Nulisch, and the group was signed by Black Top Records a couple years later. In 1986, Nulisch was replaced by Blind Sam Myers who stayed until his death in 2006. The Rockets went on to win 10 WC Handy Awards.
Funderburgh has played with Delbert McClinton (and joins his Sandy Beaches Cruise every year), Boz Scaggs, Snooks Eaglin, Grady Gaines, Earl King and Jimmy Buffett. Funderburgh is also the inspiration for Beavis (Beavis & Butthead); former bassist and creator of the characters, Mike Judge, worked as a Rocket for three years.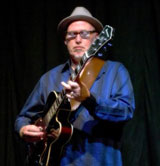 Vocalist/guitar phenom RUSTY ZINN resides in Oakland and has been on the blues scene since 1990, when he absorbed guitar from Chess Session guitarist Luther Tucker. Hummel gave Zinn his start in 1991, taking him all over the world and into the recording studio, both as a band and behind blues legends Jimmy Rogers, James Cotton and Billy Boy Arnold. By 1993 Kim Wilson hired Zinn into his band, where Rusty appeared on the Antones' Tigerman LP. Zinn debuted in 1996 as a frontman singer on Black Top Records Sittin & Waitin, following it up with a second CD in 1999, Confessin, before the label folded. Rusty was nominated for a Handy Award for "best new artist" in 1999. Rusty's vocals and guitar playing garnered rave reviews. Alligator Records recorded Rusty's, The Chill in 2000. Zinn's "in demand" sound landed him recording sessions with Kim, Rod Piazza, Little Charlie & the Nightcats, Hummel, Jody Williams, Phillip Walker, Fingers Taylor, Wee Willie Walker, Johnny Dyer, Johnny Jones, Indigo Swing, T 99 Nelson, Pinetop Perkins & Lou Pride. The last few years Rusty has pursued reggae and recorded with Sly & Robbie, Hux Brown among others.
MIKE KELLER grew up in a musical family, his parents were musicians and his father played jazz, soul and rock in local bands around the Fargo area. Growing up he was influenced by Hendrix and Stevie Ray Vaughan and through them learned about the masters of the blues. Some of Mike's influences include Kenny Burrell, Freddie, Albert and B.B. King, Otis Rush and Jimmy Reed and later the slide techniques of Elmore James, Earl Hooker and Robert Nighthawk. These influences are apparent in his guitar playing which is pretty amazing! 
After getting an offer to play with Double Trouble (and becoming the first guitaist since Stevie Ray Vaughn), he moved back to Texas. "I did the Double Trouble gig for about two and half years, then played with Doyle Bramhall for four years, Marcia Ball for a year and a half, and then got the call to join the Fabulous Thunderbirds.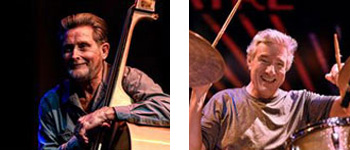 Rounding out the Golden State-Lone Star Revue are R.W. GRIGSBY on bass and famed Texas drummer WES STARR (Anson And The Rockets). Between these two old Rome, GA cronies, they've played with a who's who of famed musicians - Omar & the Howlers, Jr. Brown, Jimmy Vaughn, Asleep At The Wheel, Gary Primich, Kim Wilson, Mike Morgan, Carlene Carter, Hal Ketchum, Earl King, James Cotton and many more!